Chris posted that link to Business Arts Institute. One of the articles mentioned "bundling" as a way to increase sales. Got me to thinking. One of my best selling items is a bundle called a "Hostess Set", a tray with bowl, set to use as a chip and dip (those round chip and dips don't hold enough dip). So, I tried to make some spreaders and ended up with these small spoons (even considered buying blanks and gluing the handles in place but stayed with the spoons). These spoons are being added on to a lot of sales. I told my niece we should shoot for 1000 of these for 4th quarter .. she said "that won't be enough".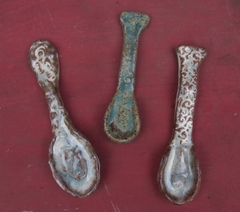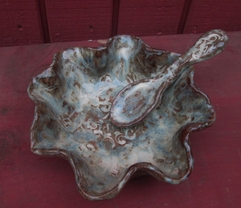 Last photo is my original "Hostess Set". I put these out in my showroom and at the two shows I do, priced as a set. I'm now putting a price on the 3 piece set as well. These spoons are prompting customers to look for something that "matches a spoon". Yesterday a lady had the dipping bowl and spoon and told her friend "I might as well get that tray to go with them". (which doubled the sale).
I love these spoons because they are fast to make, and take up very little space in the kiln, and almost no space in display.
Any one have bundling ideas to share?