To hopefully be able to ask my question I am going to talk about pure silica glass. I am still not sure if I am asking the right question.
Lets say I can get to the temperatures needed to melt silica. I start with my quartz which is a massive covalently bonded structure. I then heat it up until it melts and then cool it quickly into a vitreous silica (glass).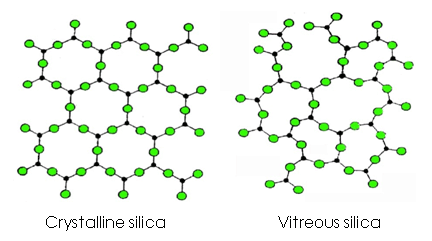 "A glassy structure suggest that chemical bonds among atoms must be partially covalent and partially ionic. This is because covalent bonds have well defined angles and distances (incompatible with glassy structure) while ionic bonds are non-directional."
So when I am melting the silica the electrons must transfer from being shared by each atom to being completely transferred to the other atom? I imagined that when melting the electron would go back to the atom where it came from but this doesn't seem to be the case. I need to have ions if I want to make a glass so electron transfer must be happening?
Is it that the melt is an electron soup where electrons are being shared with every atom at once and given enough time this would form crystalline structures but when crash cooled the ions get trapped as ions?
Source of confusion : http://digitalfire.c..._frits_340.html