Recently my school purchased a skutt 1627 kiln. A hefty kiln for a school but we needed it due to the amount of students enrolling in ceramics. We also did not want to limit the size of their work so admin was really kind and bought us this huge kiln. Although I would prefer a front loader I can't complain.
My issue is how to stack the shelving. When the installers came they told me the middle stilts had to stay in a triangle pattern or the bottom would crack. I have 13"x16"x1" shelving for the middle,so it does not go all the way across. Two of this size shelf will fit across the middle but I can not seem to understand how I am to stack two shelves across three stilts without them falling. Below is a picture with stilts in all the holes in the middle area.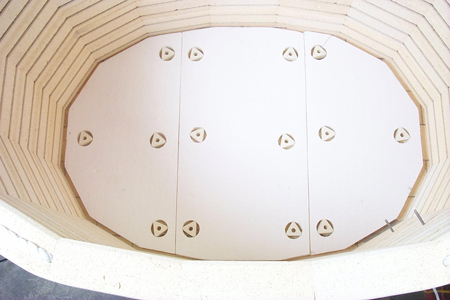 I was told to only use three stilts in a triangular pattern. I am at a loss. I have tried to look up utube and images and cannot find any videos or images. If any of you use this type of kiln if you would be so kind to post a pic as to how the stilts go that would be an amazing help. Thanks in advance.