I don't generally have a high failure rate when firing raku... even my more complex, assembled forms typically survive intact.
However, recently I've been trying to develop a new component for my water features. So far- after five attempts- every single effort has failed.
I want to make a 'mill wheel' shape- basically two shallow disc/bowls joined by an inner hub. I then add flanges cut from slabs in between the two.
The idea is for water to come out the top, and cascade down over the flanges.
Here's a diagram.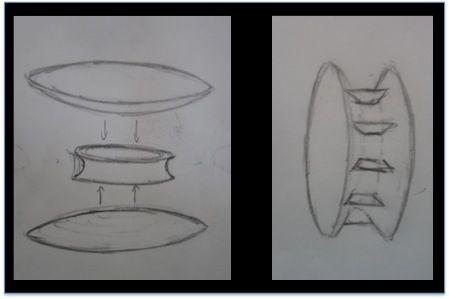 Every one of these has split during the post-fire reduction phase- always at the join between the discs and the hub. I've tried with the concave side in and out... same result.
For joining, I score, slip, add magic water, and carefully seam the components on the wheel. However I obviously can't work the seam on the interior once the top disc is added.
Any suggestions on how to enhance the strength of this design? I like the idea... but I can't suffer this high of a failure rate....